Children's Dental Services
Why a Pediatric Dentist?
The Pediatric Dentist is a specialist who is dedicated specifically to the oral health of children from infancy through the teen years. They have special training to work with a wide variety of dental problems that are common to developing mouths. They are trained and qualified to care for children with special needs, and will work with pediatricians to develop a comprehensive plan that combines oral health with total health care.
Pediatric Check-ups
Pediatric check-ups should begin at age one. Tooth decay can build up early and it is important to discuss a program of preventative home care, which includes brushing, flossing, diet control, and use of fluoride.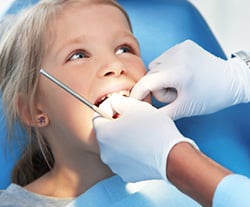 Cleanings
At age three, children should begin a schedule of regular cleanings. This is important to ensure that the primary teeth are in a healthy condition and allows the dentist to detect any potential gum problems.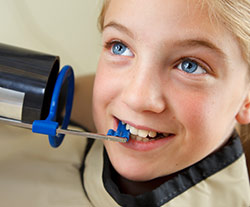 X-rays
Pediatric dentists, acting in accordance with guidelines from the American Academy of Pediatric Dentistry, recommend x-rays only when necessary to protect your children's dental health. They may be needed to diagnose tooth decay, abnormalities or for orthodontic treatment.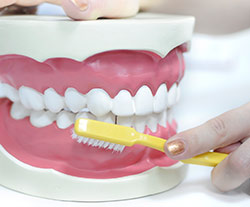 Periodontics
Although most people associate gum disease with adults, many children inherit these problems as well. Diet and other factors can play a role in periodontal disease but often treatment is necessary. Pediatric Dentists work delicately to ensure that comfort is as important as proper dental health.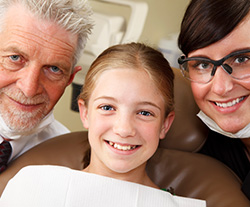 Emergency Services
When your child needs urgent dental treatment, our doctors are ready to help. Quick action can save the tooth, prevent infection and reduce extensive dental treatment. Be sure to keep your Pediatric Dentist's phone number where it is available for caretakers.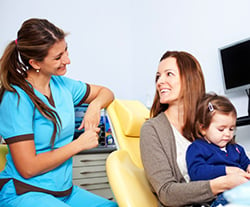 Special Needs Children
Going to the dentist can be scary for any child, but especially for a child with special needs. Pediatric dentists have two or more years of advanced training beyond dental school that include behavior management and sedation techniques. Pediatric dentists are able to work with parents on the limits and risks of various techniques, and have offices that are designed to cater to all special needs children. Talk to your Pediatric Dentist about a specialized program of preventative care and treatment that is geared toward your child.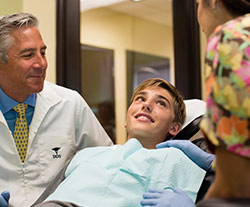 Hospital Dentistry Under General Anesthesia
Sometimes the only safe way to provide dental care for infants, children, adolescents, or persons with special health care needs is in the hospital, under general anesthesia, and under the auspices of an anesthesiologist. We often treat patients who present special challenges related to age, behavior, medical status, developmental disabilities, intellectual limitations. Read more…
What Our Patients Say About Us
"Everyone was helpful, knowledgeable and price was affordable"
What Our Patients Say About Us