Children's Dentistry
Great dental care during childhood sets the foundation for a lifetime of healthy teeth. At Main Street Dentistry, we strive to create a warm and welcoming atmosphere that helps children feel confident and safe while receiving dental services.
What Is Pediatric Dentistry?
Children's pediatric dentistry focuses on the care of children from birth through adolescence. To specialize in this field, dentists must complete an additional 2-3 years of training after completing dental school. This includes hospital training, which allows them to work with patients who have more severe dental needs or emergencies that should be addressed by a pediatric oral surgeon. Our pediatric dental specialists work closely with your pediatrician or general dentist, who may refer your child to our office for specialized care.
Why Should Children Visit a Pediatric Dentist?
When it comes to the health of your child's teeth and gums, there's no better time than now to begin an oral care regimen. A toddler dentist can provide a thorough dental cleaning for kids, protecting baby teeth from disease and decay. Pediatric dental specialists can also give you expert advice on how to properly floss and brush your child's teeth at home.
When Should I Take My Child to the Dentist?
A child should have had his or her first dental visit by age one or two. During your appointment, one of our children's dentists will thoroughly examine your child's teeth, inspecting them for signs of disease or decay. He or she will also administer a dental cleaning, where bacteria and plaque are gently removed from the teeth and gums. While some children may feel frightened by the dentist, there are ways to make the visit enjoyable. Consider rewarding your child with a tooth-friendly treat at the end of your visit, making a trip to the dentist a positive experience.
What Happens During a Child's First Dentist Visit?
At your appointment, your dentist will create a treatment plan that addresses your child's specific needs. During your initial visit at our office, your child will receive routine X-rays, a thorough dental cleaning, and a pediatric periodontics assessment from one of our experienced dentists. You'll also have the opportunity to ask your dentist about any issues your child may be experiencing, such as thumb-sucking or teething.
How Can I Find a Dentist for My Special Needs Child?
Visiting a dentist can be frightening for any child, but special needs children may find the experience especially scary. Our dentists have several years of advanced training, which includes sedation techniques and behavior management strategies that can help your child feel comfortable. Please call our children's pediatric dentistry office to speak with one of our staff members about our personalized programs for special needs children.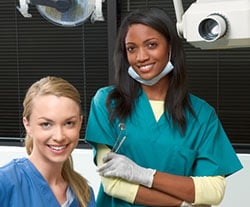 Our pediatric dentists are specialists, meaning that they have completed the necessary training to properly treat children of all ages. Our focus is on the variety of dental problems that can occur when a child's mouth is still developing. We also provide care to children with special needs, creating personalized care plans that ensure the comfort of the child and his or her parents. We utilize a team approach, working closely with parents, pediatricians, and general dentists to develop comprehensive care plans. To learn more about our kid's dentists and services, please give our office a call.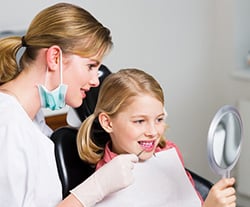 Seeing a pediatric dentist regularly is an important part of your child's overall health. At our office, we provide a host of children's dental services that address issues that can occur during all stages of childhood. Please give us a call if your child requires any of the following dental services.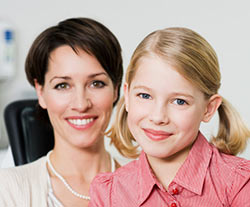 If you'd like to learn more about our services or wish to schedule an appointment, please give us a call or request an appointment online. One of our friendly staff members will contact you to discuss your child's treatment options and provide information about the cost of pediatric dental visit. Please have your insurance information available, if applicable. We look forward to seeing your child's beautiful smile!
What Our Patients Say About Us
"I just love the way my child is treated in each appointment. The care and understanding of each child is very important. More when they are so vulnerable."
What Our Patients Say About Us
"I just love the way my child is treated in each appointment. The care and understanding of each child is very important. More when they are so vulnerable."