Children's Dental Services
When Should I Take My Child to the Dentist?
A lifetime of great dental health begins during childhood. From infancy to adolescence, it's important that children visit a pediatric dentist regularly to maintain great dental health. In addition to completing dental school, our pediatric dentists have years of training that allow them to successfully treat a variety of dental conditions. Our facility features state-of-the-art equipment and can accommodate children with special needs.
What Is the Average Cost of Pediatric Dental Visit?
Many families are concerned about cost when deciding to visit a pediatric dentist. In most cases, your total charges will be determined by your child's unique dental situation and the amount your insurance plan covers. However, affordable children's dentistry can be obtained even without dental insurance. Please give us a call to learn more about our pricing and flexible financing options.
We currently offer the following children's dentistry services: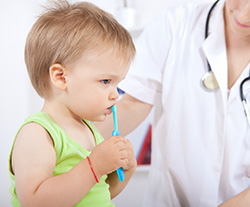 Pediatric Check-ups
Regular pediatric checkups should begin after your child's first birthday. During a pediatric dental checkup, one of our skilled pediatric dental specialists will thoroughly examine your child's teeth and gums for signs of decay or disease. Working with your general dentist and pediatrician, our pediatric dentists create comprehensive care plans that address your child's dental needs.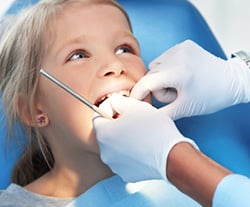 Dental Cleaning for Kids
Good oral hygiene is vital to your child's oral health. A dental cleaning for kids should begin at age three, and these professional cleanings should continue throughout your child's life. Dental cleanings ensure that your child's baby teeth are healthy and protect your child against gum disease. Your dentist will also provide information on ways you can improve your child's oral hygiene at home by recommending dental products and dietary adjustments, if necessary.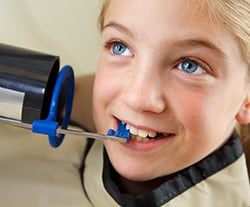 Pediatric Dental X-rays
The American Academy of Pediatric Dentistry recommends X-rays during a dental checkup, as they can help the dentist identify oral health problems within the teeth. Pediatric dental X rays may be required to diagnose a variety of conditions, including tooth decay, problems relating to gum disease, and dental abnormalities. Your pediatric dentist also may use X-rays when providing orthodontic treatment.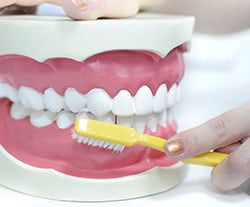 Pediatric Periodontics
Gum disease is not just an adult oral health problem – children can sometimes develop inflammation along the gum line as well. There are many factors that can cause gum disease in children, including genetics, diet, or oral hygiene habits. Our pediatric dentists can help prevent and treat gum disease by providing thorough cleanings and advice on how to best care for your child's gums.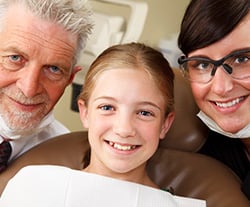 Emergency Pediatric Dental Services
If your child is suffering from a pediatric dental emergency, our dentists are here to help. Pediatric dental emergencies include broken teeth, severe toothaches, and many other conditions. When an emergency occurs, it's important to seek treatment for your child as soon as possible. This can help our dentists save the tooth, if possible, and reduce the risk of extensive dental care. Keep our office's phone number available in case a pediatric dental emergency strikes.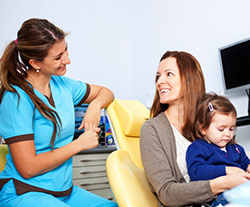 Children with Special Needs
Finding a skilled pediatric dentist for special needs child can sometimes be a challenge. Fortunately, our pediatric dental specialists have advanced training beyond dental school that allows them to interact positively with children with special needs. This includes using behavior management solutions and sedation techniques that can help your child feel safe and relaxed. Our office is fully equipped to accommodate all special needs children, allowing us to administer care in an environment that's comfortable for your child. Our staff members and dentists work closely with parents to develop a personalized dental care plan that meets your child's unique needs.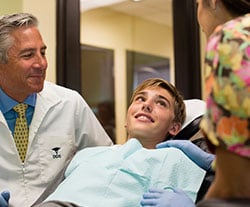 Pediatric Dental Anesthesia
Our pediatric dental specialists are trained in a wide variety of methods that help children feel relaxed during dental procedures. While some children with an intense fear of the dentists may react well to laughing gas, some children require more intensive sedation. We offer a variety of safe and effective sedation options at our office, including general anesthesia for child and toddler dental work. Each child is different, so the method of sedation will be determined by the child's age and specific needs.
Hospital Dental Care with General Anesthesia
Sometimes, intensive dental work must be completed at a hospital to ensure your child's comfort and safety. When dental work is completed at the hospital, your child will be placed under anesthesia and monitored by an anesthesiologist. Our dentists have experience treating patients with special challenges, including developmental disabilities, chronic medical problems, and other situations. We work closely with pediatricians, oral surgeons, and anesthesiologists to ensure the best possible outcome for your child.