Losing your dental benefits is nothing to smile about.
Nov 2, 2014 - 03:11 PM EST
|
Posted under: General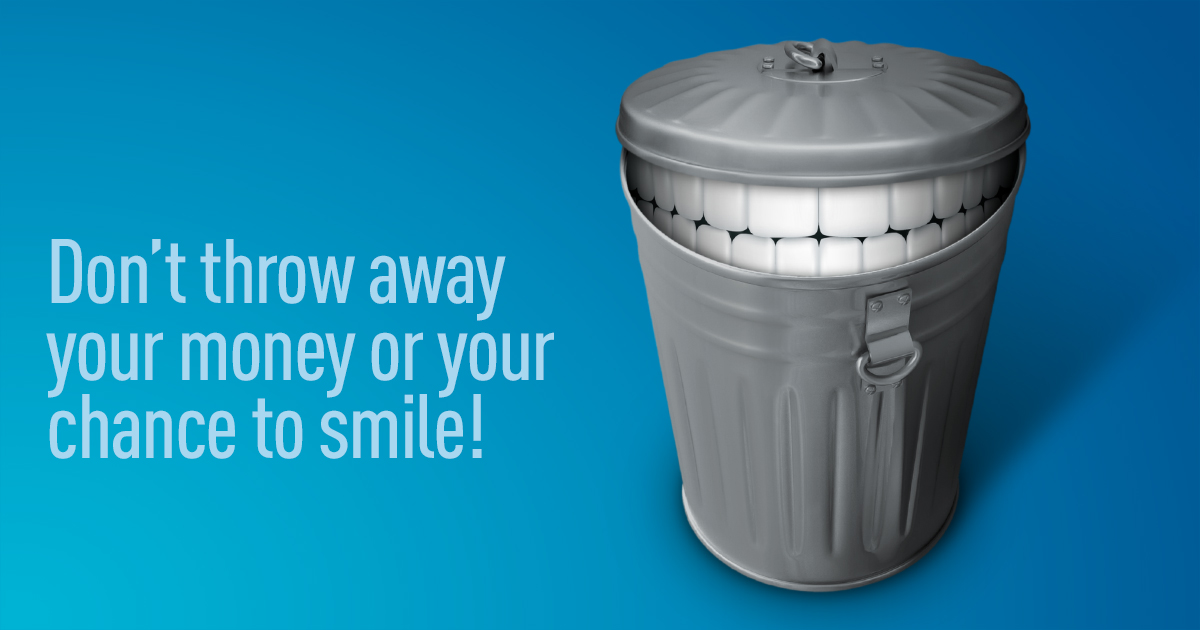 Still have dental benefits you haven't used this year? Or, money left in your HSA/Flex Spending Account? Beware. Most dental plan benefits expire at the end of the calendar year. So unless you make use of them soon, you'll lose those valuable benefits you've already paid for. And that's like throwing money in the trash.
Why not take advantage of those unused benefits by scheduling an appointment for a routine cleaning, exam or other dental service you've been putting off? Your affordable dentist in Florida, Maryland and Virginia will be happy to explain what is and isn't covered.
Don't have a dental insurance plan? Your timing couldn't be better. Dentrite, our in-house discount dental plan, is currently enrolling. This alternative to dental insurance offers substantial savings on general and cosmetic services for you and your entire family. Dentrite members can save from 20% to 70% on dental procedures like exams, cleanings and X-rays. Dentrite offers unlimited plan usage with no complicated administrative forms to file. And unlike dental insurance, everyone is accepted. For more information, visit Dentrite.com.
Regardless of what plan or insurance you use, make sure you schedule early. Appointments can fill up quickly at this time of year. Why not contact our office to schedule yours now?
Call us at to set up your appointment today.
What Our Patients Say About Us
"Staff so friendly. Loved that Annette took the time to explain each instrument to my child."
What Our Patients Say About Us
"Staff so friendly. Loved that Annette took the time to explain each instrument to my child."