New Patient Information – Orthodontics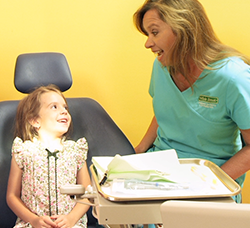 Thank you for considering Main Street for your child. We look forward to seeing your child's beautiful smile very soon.
The American Association of Orthodontists recommends that all children have an orthodontic screening no later than age seven. Although treatment may not be offered at this early age, it will help determine your child's orthodontic problems and assess the proper time to begin solving these issues. At this initial office consultation, the orthodontist will perform a comprehensive oral examination, evaluate x-rays to look for any hidden problems within the jaw or developing adult teeth, and formulate a unique treatment plan for your child. Upon completion of the consultation, a treatment coordinator will explain the plan of action, which will include length and cost of the treatment.
Make an Appointment
If you'd like to make an appointment, please call or request a new appointment online.
Patient Forms
If you already have an appointment, please complete the new-patient form below and bring it with you to the office.
Some additional helpful information for our new patients:
We value the time we spend with our patients. A broken appointment is a loss to everyone. Please inform us 24 hours in advance if you are unable to keep your appointment.
If you have dental insurance, our staff will be happy to verify your coverage. Please have your insurance information available when you call to schedule an appointment.
For more information on our payment and financing options, please visit our Payment Options page.
What Our Patients Say About Us
"A big thank you to Dr. Feldon and his staff for making this journey fabulous! Front desk ladies you rock. Always making the impossible possible with appointments. ☺Nevaehs teeth are beautiful. We couldn't be more satisfied with the outcome. Martha is great, she always went out of her way to comfort my daughter and help build her coonfidence."
What Our Patients Say About Us
"A big thank you to Dr. Feldon and his staff for making this journey fabulous! Front desk ladies you rock. Always making the impossible possible with appointments. ☺Nevaehs teeth are beautiful. We couldn't be more satisfied with the outcome. Martha is great, she always went out of her way to comfort my daughter and help build her coonfidence."