Orthodontic Services
Orthodontists can use a variety of treatments and appliances to move teeth.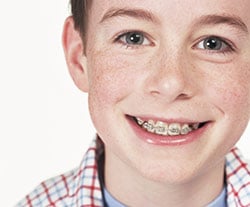 Braces for Kids
Children can require braces for a number of reasons, including crooked teeth, bite issues, or malocclusion. Problems are typically spotted during regular dental checkups, where your dentist will recommend orthodontic treatment.
How Much Do Braces for Kids Cost?
The cost of braces for kids will depend on the complexity of your child's orthodontic issues. Typically, the type of braces your child wears and how long he or she needs to wear them will factor into your total charges. At our practice, we understand that purchasing braces for your child is an important financial and medical decision. We offer several payment options that can help your family manage the cost of care.
How Old Should My Child Be Before Getting Braces?
The American Association of Orthodontists recommends that all children have an orthodontic screening no later than age 7. Although treatment may not be offered at this early age, it will help determine your child's orthodontic problems and assess the proper time to begin solving these issues. At this initial office consultation, the ortho- dontist will perform a comprehensive oral examination, evaluate x-rays to look for any hidden problems within the jaw or developing adult teeth, and formulate a unique treatment plan for your child. Upon completion of the con- sultation, a treatment coordinator will explain the plan of action, which will include length and cost of the treatment.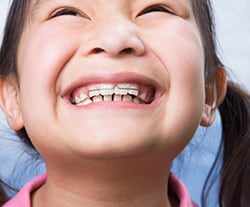 Retainers for Kids
While braces create a beautiful smile, a retainer ensures that the corrections stay in place. They also encourage better oral hygiene and can sometimes improve speech problems.
What Is a Retainer?
A retainer for kids is used during the final stage of orthodontic treatment. Sometimes, corrections made by braces can shift if a retainer is not worn regularly. These devices are custom-fitted to the child's mouth and are typically worn overnight.
How Much Does a Retainer Cost?
The cost of a retainer generally depends on what type of device is required. Usually, removable retainers are less expensive than permanent, bonded retainers that are molded to the teeth. Please give us a call if you have questions regarding the cost of an orthodontic retainer.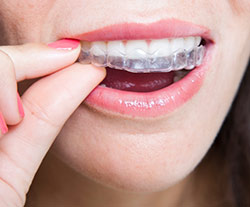 Invisalign® for Kids
If your child feels uncomfortable or self-conscious about the thought of wearing metal braces, Invisalign may be a great choice. A modern approach to correcting orthodontic problems, Invisalign® uses custom-fitted, flexible plastic aligners to gradually adjust the teeth. These aligners are virtually invisible and free of wires and brackets, allowing your child to straighten his or her teeth discreetly and comfortably.
Can Kids Get Invisalign?
Dental technology has advanced dramatically in recent years. Today's clear aligners can straighten teeth just as effectively as metal braces, making them a good option for image-conscious teens. Invisalign generally is not recommended for young children since their mouths are not fully developed. Our experienced pediatric Invisalign specialists can determine whether clear aligners are right for your child.
How Much Does Invisalign for Kids Cost?
The cost of Invisalign will depend on the complexity of your child's misalignment issues and what your insurance plan covers. Typically, the longer your child requires treatment, the more your charges will be. At our office, we offer treatment that is beneficial to your child's smile and easy on your budget. Call us today to learn more about our affordable Invisalign for children.
What Our Patients Say About Us
"Every visit is always met with a kind and courteous staff. My daughter needed to get her first filling. They eased her anxieties and explained everything to keep her calm. Because she was not fearful, I was calm. They allowed me to stay close by so I could hold her hand when needed."
What Our Patients Say About Us
"Every visit is always met with a kind and courteous staff. My daughter needed to get her first filling. They eased her anxieties and explained everything to keep her calm. Because she was not fearful, I was calm. They allowed me to stay close by so I could hold her hand when needed."